OVERVIEW
Service-Oriented Architecture is an interesting software architectural pattern. It entails structured collections of services which when organized provide the full functionality of a system, but in a way that can be reused or bought upon by various applications(including your competitors) who are willing to pay for the service. This phenomenon arises because this approach is built on loosely coupled independent service modules which do not have any embedded association amongst them.
CHALLENGES
Each service at Tektree is designated for one or more functions. For example; an online retail order, an online booking of an airline ticket, access to your bank viewable via the web – all of these are examples of services. Service-oriented architecture (SOA) is based upon this fundamental design principle which enables users worldwide to access specific methods that can be carried out independently without having to be aware of the data centres that are providing the services in question.
SOMA -IDENTIFICATION & SPECIFICATION OF SERVICES
Design
Development & Testing
Deployment
Run-time Modification
Monitoring & Evaluate Performance
Secure & Audit
Retire & Remove
APPLICATION DEVELOPMENT METHODOLOGY BASED ON IBM RUP FOR SOMA MODEL:
Service Identification
Service Specification
Component Identification
Component Specification
Service Realization Decisions
SOA Implementation
FUNDAMENTALLY BPM CAN BE DEFINED AS
The art of understanding how your business can be modeled and automated in such a way as to increase profitability. From this, we learn that Business Process Management is not just about core managerial core skills but it's also about the tools. BPMs focus on the repeatability of processes which can free up resources for more important tasks at hand rather than wasting time on redundant actions often found in manual approaches.
Optimize
During the Optimize Phase, managers use data and lessons learned from Manage Phase as a foundation to change the process. Optimization may include such things as enhancing the data collection forms, adding or removing tasks, automating steps that were previously completed manually, or modifying the reports generated. The goal of the Optimize Phase is to identify changes that will improve the process. From our example, identifying that travel time has increased by 30% might cause you to test an alternate route to avoid the new traffic signals.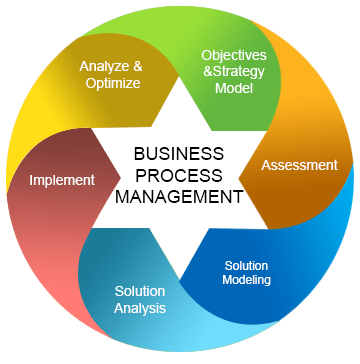 As the saying goes, nothing stays the same. Businesses grow and develop as time passes by. Customers' needs change. New technology emerges to replace old tools. And people come and go. Change is inevitable, so Tektree ensures that BPM here is all about embracing it and making adjustments accordingly to ensure your processes are always aligned with your business goals! 
Consider each stage of the BPM process as a cycle that starts with analyzing staffing requirements and problem-solving techniques with employees who best understand the existing processes, including how to improve them. Thus, by modifying your BPM cycle you're able to implement new changes (or an entire overhaul) at strategic intervals in your company's growth!