ODC
What is an Offshore Development Center?
The Offshore Development Center (hereafter referred as ODC) is a virtual community of software development engineers who complement an organization's in-house staff by being based remotely at Offshore Center, works on the project development as per the customer business needs.
The ODC has become an increasingly popular business delivery model for companies of all sizes to help increase productivity and reduce operating expenses by leveraging offshore cost-effective yet quality talent. The ODC model has also proven to be a highly effective tool for providing with greater visibility and predictability in the development process.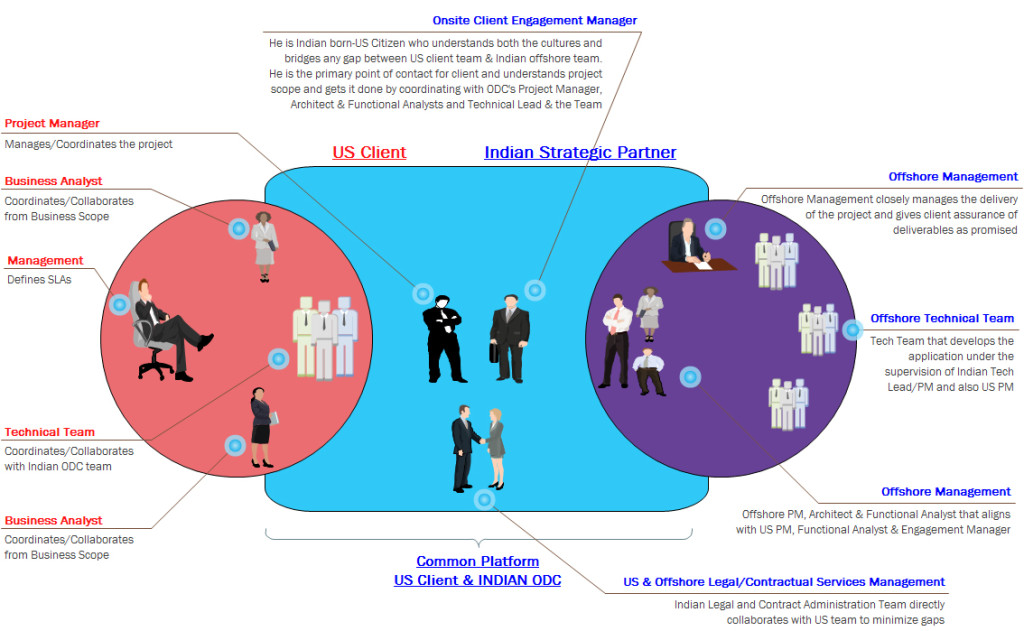 What are the types of ODC?
There are two types of ODC as listed below.
ODC with Dedicated Resources
ODC with Shared Resources
ODC at TekTree are equipped with the following advanced and sophisticated equipment to protect the security and privacy. Client can see the resource on a daily basis.
SKYPE
CCTV
BIO-METRICS
ID CARDS
DYNAMIC SYSTEM PASSWORDS
ODC with Dedicated Resources: In this type, resources are an extension to the particular customer's IT team, meaning all the resources are dedicated & completely controllable by the customer but managed by offshore strategic business partner. Dedicated ODC supports a variety of professional services and is a natural choice for organizations to utilize global cost-effective resources to meet time-critical objectives through controlling offshore resources [human resources, office facility, infrastructure and everything is fully dedicated] as their own to get maximum output out of them.
ODC with Shared Resources: Unlike dedicated resources, shared technical resources are shared among customers and cannot be guaranteed to a particular customer and hence cannot claim control over. They may be moved out of projects as it may seem feasible and will be replaced within a period.
Why is an ODC? / What are the advantages of ODC?
Constant competition and pressure for business growth, to increase the revenue and the profit, and a demand for organizational efficiency and effectiveness forced the business world to come up with a wise proposition to begin experimenting with ODC model. ODC provides not only a potential competitive advantage over your competition but also keeps in a position to produce more product, profit and net income overall business growth and the value in short & long-term. The following list portrays the benefits of an ODC.
Business Objectives
Cost Savings
Time difference advantage
Core Focus
Recruitment
Staff
Scale up & down the talent pool
Cutting Down Overheads
What are the ODC service offerings?
ODC offers a complete IT services related to software development life cycle [SDLC] as given below. You can expect the ODC to be set up for any kind of technology.
Application Design & Development & Testing
Product Development
Package Implementation
Administration
Support & Maintenance
Upgrade & Migration
Trainings – TOGAF/ PMP /ITIL / IBM / Microsoft / Oracle /Others – On Demand
Why TekTree as an ODC?
The uniqueness of Tektree is that the founders & Engagement Managers of Tektree are Indian born, US Citizens. Having exposed/lived/worked in both the cultures, Tektree can understand client's business expectations and have them be implemented at ODC with a proper coordination. Not many Indian offshore companies have this unique quality which gives customers added advantages of accountability & the commitment and minimization of the cross-cultural challenges & the accent thereby reducing the communication & cultural gap which is the key to get maximum ROI out of an ODC. In addition, the following unique features sets Tektree a compelling option for ODC
Founders & Company presence in US
Strategic Alliances / Partnerships
Center of Excellencies [CoEs]
Technology offerings
Application / Product Development
Employee Selection and Retention
CMMI Level 3 Process Model
ISO 9001:2008 policies & standards
ISO 27001:2013 standards and controls
ODC Execution Model
ODC Delivery Model
Huge savings compared to MNC
Touchstones of Tektree
Delivery Models at TekTree:
TIME & MATERIAL:
OnSite [H1-B, GC, US/Canadian Citizen]
OfFSite – OnDemand Basic
OffShore – US Time Zone
PROJECT BASED:
OnSite [H1-B, GC, US/Canadian Citizen]
OfFSite – OnDemand Basic
OffShore – US Time Zone
HYBRID:
Combination Of Both As Needed