Service Oriented Architecture (SOA) is a software architectural design based on structured collections of services that collectively provide the complete functionality of a software application which can be exposed for re-use by various applications, departments of the enterprise or even trading partners. These services are un- associated and loosely coupled meaning not having embedded association.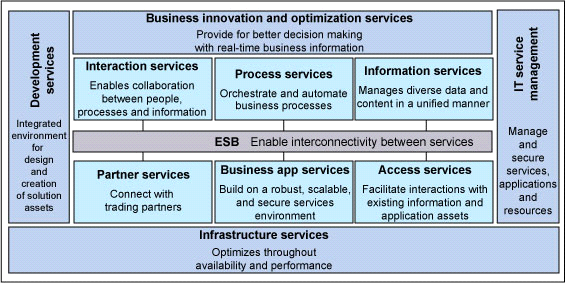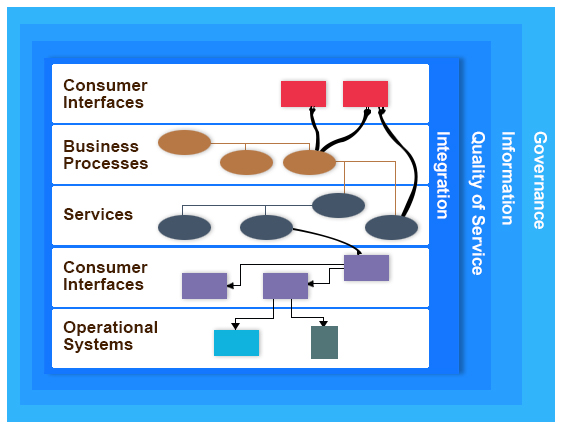 Each service serves one or more functions/actions, such as filling out an online application for an account, viewing an online bank statement, placing an online retail order, online booking of airline ticket or getting credit report etc. SOA as an architecture relies on service-orientation as its fundamental design principle. Users can access independent services without knowledge of underlying complexity and platform implementation.
SOMA – Identification and Specification of Services
Top-Down or Bottom-up or combined Approach:
Assemble
Design
Development & Testing
Deploy
Deployment
Run-time Modification
Manage
Monitoring & Evaluate Performance
Govern
Secure & Audit
Retire & Remove
Application Development Methodology based on IBM RUP for SOMA Model:
Service Identification
Service Specification
Component Identification
Component Specification
Service Realization Decisions
SOA Implementation
SOA Offerings:
IBM SOA Suite
WebSphere Business Modeler
WebSphere Integration Developer
WebSphere Process Server
WebSphere ESB
WebSphere Business Monitor
WebSphere DataPower SOA Appliances
WebSphere MQ
WebSphere MQFTE
WebSphere Message Broker
WebSphere Adapters
WebSphere Application Server
Tivoli Composite Application Manager for SOA
WebSphere Service Registry and Repository
WebSphere Operational Decision Management
Sterling B2B Integrator
Sterling Managed File Transfer
Oracle SOA Suite
Oracle Managed File Transfer
Oracle Service Bus
Oracle BPEL Process Manager
Oracle Business Rules
Oracle Enterprise Repository
Oracle SOA Management Pack Enterprise Edition
Oracle Event Processing
Oracle B2B Integration
Oracle Business Activity Monitoring
Fundamentally BPM can be defined as,
The discipline of modeling, automating, managing, monitoring, and optimizing business processes to increase profitability.From this we learn that BPM is a management discipline rather than a technology or a tool.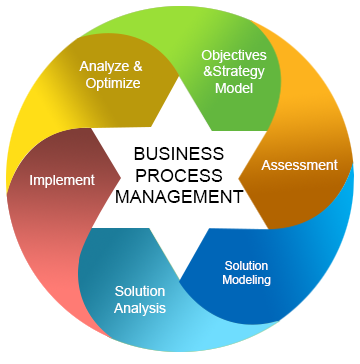 Optimize
During the Optimize Phase, managers use data and lessons learned from Manage Phase as a foundation to change the process. Optimization may include such things as enhancing the data collection forms, adding or removing tasks, automating steps that were previously completed manually, or modifying the reports generated. The goal of the Optimize Phase is to identify changes that will improve the process.
From our example, identifying that travel time has increased by 30% might cause you to test an alternate route to avoid the new traffic signals.
The Cycle Continues
Perhaps the most important aspect of BPM is the one most often overlooked – continuous improvement. As the saying goes, the only constant in life is change. Your firm changes, your environment changes, and your technology changes. Your processes also need to change and evolve to meet your needs.
It is best to consider the 5 steps of business process management as part of a continuous cycle. Once potential process changes are identified, the cycle begins again and the best suggestions are eventually implemented. In this way, you are able to make continual and incremental improvements to the process.